Long lasting rechargeable battery for portable combustion analyzer, battery for CloudGate 952025 devices 400mah battery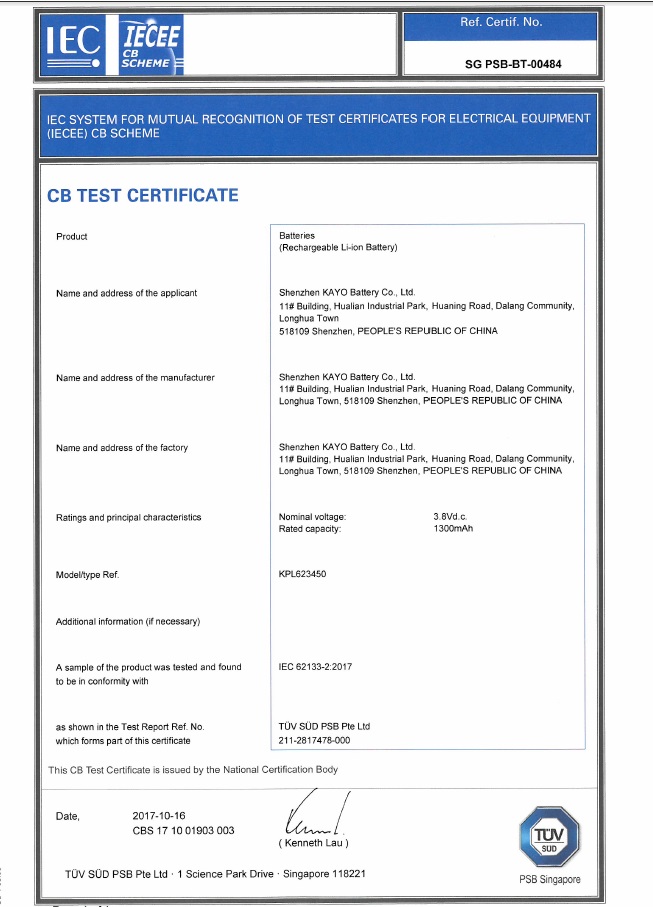 | | |
| --- | --- |
| Model number | KPL952025-#2779 |
| Mark | Kayo |
| Origin | China |
Key Specs/ Special Features:
batteries to use the portable combustion analyzer
We came across your products and would like to see if it is possible to implement the KAYO battery in our CloudGate devices.
The technical requirements for the battery are as follows:
o Rated voltage: 3.7V (3.2V-4.2V)
o System load: 500 mA (average) / 2 A (peak)
o Standard charge/discharge
o Charge current set to 250 mA (0.25 C, preferably up to 1 C)
o Standard discharge 0.5C
o Discharge current up to 2A (2C)
o Cut-off voltage for discharge: 3.0 V
o Desired life cycle: > 60% after 500 cycles
o Thermistor: NTC 10k 25°C
o Protection circuit/electronics (PCM)
o The battery will be equipped with a protection circuit with over-voltage, over-current, thermal, over-charge and over-discharge protection
or max. battery dimensions: 52 x 34 x 5 mm
o Cable details required: UL1007 AWG24
o connector details required: Molex MPN 0050375033 or compatible
o Temperature:
– Charging temperature: 0° to +45°C
– Discharge T°: -20° to +60°C
These small 3.7V lithium polymer batteries have a full range of applications such as portable devices, consumer products and medical products. You can find a smaller 3.7V polymer lithium battery for your new design.
We offer competitive price and smaller quantity of customized 3.7V polymer lithium battery. Everything we do what we want to help you start your great idea.
Li-polymer cells are used to power applications requiring higher energy levels.
Cells can be combined and assembled in series to increase voltage or in parallel to increase capacity by using multiple identical cells.
Thermistors or thermal fuses and gas gauges can be added if needed, but the printed circuit module (PCM) is highly recommended for safety protection.
The connection can be direct solder tabs, bare lead wires and/or with a specified OEM connector.
Model Selection Guide
1: The width (W) and length (L) are fixed for each cell size, but the thickness (T) is variable, which can increase or decrease the capacity of the cell for the same width Lipo cell and of fixed length.
2: Due to space limitations on the site, if you don't see the proper width and length below or even a closer one, please contact us.
3: Adding a PCM to the cell will increase approx. 1.5-2.0mm at total length and 0.5mm at thickness after assembly.
4: The following parameters are theoretical data, intended for reference only. Please contact our sales staff for details.
Product certificates
To note: Not all certificate agents offer online search, and some have a time limit for issuing new certificates. If you can't find a certificate online, contact the certifying agency or provider for further verification.
Delivery Information
| | |
| --- | --- |
| FOB port | China (Mainland) |
| Lead time | 25 to 30 days |
| Weight per unit | 8.6 kilograms |
| Dimensions per unit | 41.5 x 25.5 x 21.8 centimeters |
| | |
| --- | --- |
| US HTS code | 8507.60.00 90 |
| Units per export carton | 260.0 |
| Export Carton Dimensions | 41.5 x 25.5 x 21.8 centimeters |
| export carton weight | 8.6 kilograms |
Main export markets
– Asia
– Australasia
– Central/South America
– Eastern Europe
– Middle East/Africa
– North America
– Western Europe