A bushfire southeast of Lindale spiraled out of control on Tuesday, damaging several properties and prompting the first citation from the Smith County Fire Marshal's office after a burning ban was issued last week.
Multiple fire crews including the Lindale Fire Department, Red Springs and Dixie Fire Departments responded to the blaze that occurred off County Road 35 (Lavender Road).
A homeowner was burning four piles of brush which sparked the blaze, according to Deputy Fire Marshal Chad Hogue.
Firefighters arrived at the scene of the blaze early in the morning after being notified of the blaze. Hogue said firefighters extinguished the flames and asked the owner to stay with the fire until it was completely extinguished.
Later that afternoon, fire crews were dispatched to the same property around 2:08 p.m. as the fires were out of control, according to a Smith County news release.
The flames spread to nearby properties and through a pasture, causing damage.
The fire "burned about a quarter of a mile on County Road 492 (Ann Campbell Road) near the Swan community. The fire burned 20 round bales of hay, threatened homes and damaged two vehicles," Hogue said in the press release. "The horses also had to be moved."
The fire was brought under control around 7:30 p.m., but it was still smoldering Wednesday morning.
Hogue said they will continue to monitor the area to ensure the fire does not re-ignite.
The owner was issued a citation containing a class C misdemeanor, punishable by a fine of up to $500.
Hogue reminded local residents that if they fail to comply with no-burn guidelines, they could be fined and held civilly liable for property damage.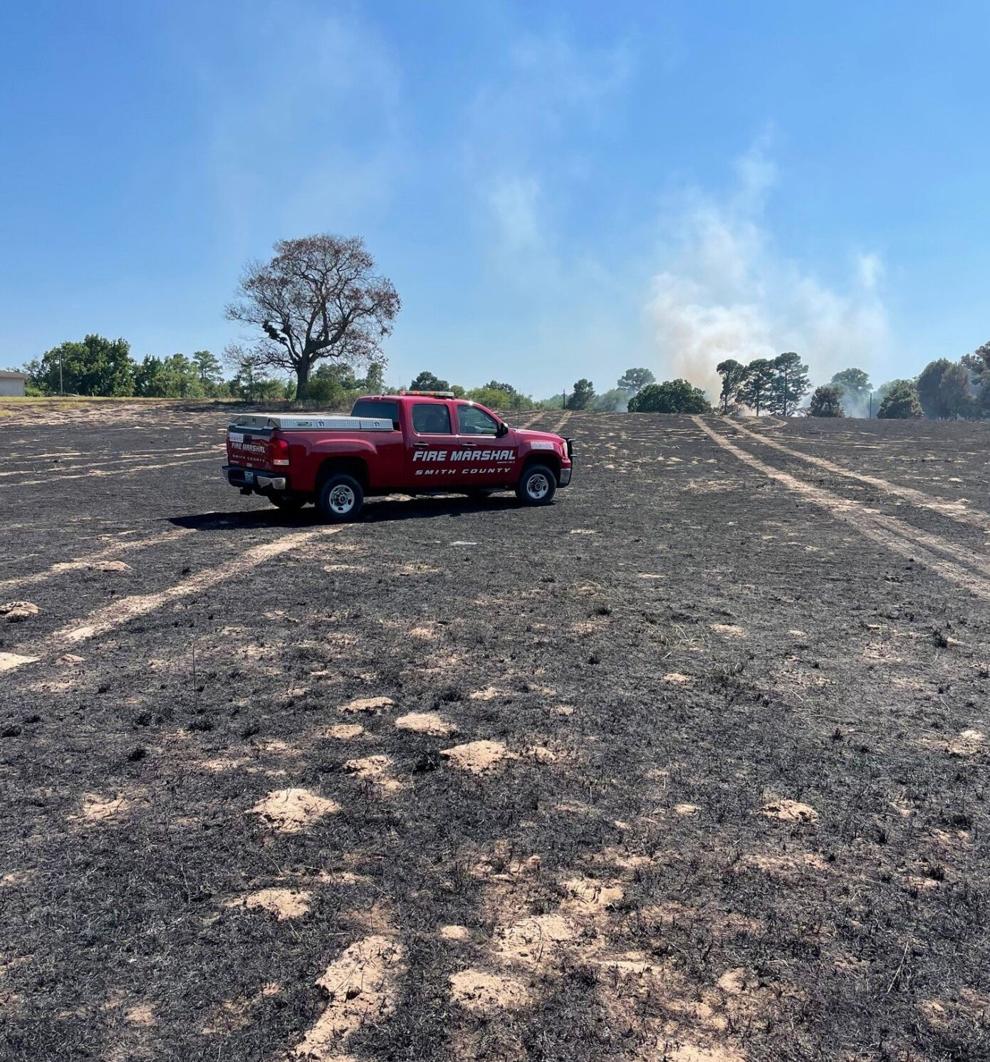 The burning ban was issued by Smith County Commissioners on July 5 after a recommendation from Fire Marshal Jay Brooks.
Burn bans are enacted by counties when drought conditions exist, limiting outdoor burning for public safety.
Things like outdoor welding and outdoor cooking are still allowed, Brooks said. Those who weld are required to notify and register with the Office of the Fire Marshal before doing so and have extinguishing methods under the burning ban. Outdoor burning of brush or in barrels is not permitted.
The burning ban is in place for 90 days since it was issued, unless the county has a reason to end it sooner.